Kitchen Corner Bench – Linon Chelsea Unit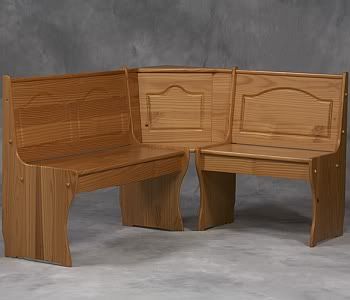 Create a cozy spot for meals and conversation in any corner of the kitchen with this kitchen corner bench. The rich honey pine finish on this corner nook provides a traditional look to this highly functional piece.
Linon breakfast nook corner unit from Chelsea
3 connected seats with longer bench on one side
Warm honey pine finish shows wood grain underneath
Measures 68″ wide by 18.5″ deep by 33.5″ high. Table and Bench is not included with the corner unit
Some assembly required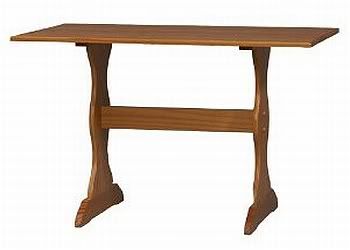 Create a complete breakfast corner nook set by adding this breakfast table to the Linon corner bench above.
Kitchen table from Chelsea kitchen nook set
Long tabletop perches on attractively curved legs; sturdy support rail
Warm honey pine finish shows wood grain underneath
Measures 43 inches wide by 27 inches deep by 29-1/2 inches high
Some assembly required

Complete the Linon breakfast set collection by adding this extra seating bench.
Bench seat from Chelsea kitchen nook collection
Long seat with attractively curved legs and sturdy support rail
Warm honey pine finish shows wood grain underneath
Measures 40 inches wide by 13 inches deep by 17 inches high
Some assembly required
.
Rating:

(out of 5 reviews)

.
.
Making the Most of Your Space with Dining Room Furniture
Today's homes tend to be smaller and more compact, and your furniture has to live up to the challenge. The right furniture can turn your small dining area into a cozy dining nook or an elegant, sleek area. Consider the following tips to make the most of your space with the right dining room furniture:
Choose compact dining sets to save space
A dining room table does not have to be a hulking behemoth that steals away from your floor space, especially when you are not using it. There are many attractive compact styles that tuck into themselves and leave your dining room looking sleek and sophisticated. One of the more popular new styles is the round table with wedge seating.
The Capria 5-piece counter height pub set features pub styling with four stools that slide completely under the table to hide away and save space. The 40-inch round table is the perfect size for a small apartment or condo as it is elegant, sophisticated and very stylish.
Breakfast bars are another compact dining choice that you might consider. The Nova 3-piece counter-height table and chairs comes in several different finishes including black, white, gray and cherry. The styling is very contemporary replete with saddleback stools and clean lines. Like the Capria, the Nova style dinette set features stools that tuck discreetly under the table when not in use, freeing up floor space and making your dining room look more spacious.
Make good use of corners
When your wall space is at a premium, it is important to make use of all the wall and floor space that you have. Look for dining room furniture that fits into corners, leaving space for other things. A mahogany lighted corner curio cabinet is a space-saving alternative to a china cabinet, the perfect size to display a dinner setting for four and a few prize pieces of china.
If you are looking for something even more sophisticated, choose a honey corner bar with mirrored back. While this item is meant to hold bottles and wine glasses, it can work just as well to hold your fine china and other dining room essentials.
Choose multi-purpose dining room furniture to make the best use of your space
Traditional dining rooms normally include sideboards, buffets and china cabinets. However, this is can be a lot of furniture to pack into a smaller dining room. You can make the most of your dining room space by choosing furnishings that have more than one purpose. A piece of furniture like the Elizabeth modern buffet adds a touch of modern elegance to your dining room while providing plenty of space for storing your glassware, china, linens and vases.
The top provides more display space, or serving space for dinners. A buffet also allows you to get away with a smaller dining room table, since you do not have to put all the food and serving dishes on the table.
Choose clean, uncluttered lines to make the room look bigger
One important design principle to keep in mind is that clean, straight lines and simple shapes contribute to an uncluttered look, and can make rooms look bigger. Fussier details tend to make things appear more cramped and small.
Skip massive, solid sideboards and hutches as they tend to look heavier and break up space. Instead, choose furniture with open shelves, or those with wire rack shelves. When you can see through a piece of furniture, it feels lighter, and makes the room both feel and appear larger than it actually is.
Choosing dining room pieces with glass tops and mirrored backs will also help make your space look bigger. A glass-topped dining room table like the Alison round glass-topped table with barrel chairs makes the most out of your space in a number of ways.
The low-backed chairs fit snugly against the table, and do not interfere with the line of sight. The glass-top is transparent, so that it does not "block off" space to the eye, and the compact 50" round size is the ideal size for a small dining area.
Do not forget the walls for storage space
You do not have to put everything on the floor, either. Do not forget that you have wall space that can be used for storage. A wall-mounted wine rack can hold bottles and wine glasses, displaying them to their best advantage. This can be especially effective if you lean toward colored stemware, adding a touch of brightness to your room décor.
There is no reason to despair about your dining room just because the room is small. If you choose your dining room furniture wisely, you can have an elegant, sleek and spacious dining area even in the smallest of condominiums or apartments.
Return from Kitchen Corner Bench to Kitchen Nook Furniture homepage.
Check out the breakfast nook sets in the sidebar at the right hand side of the page, or choose from a wide range of
breakfast nook sets
for sale here >>>
Breakfast Nook Sets