Oak Dining Sets – Home Styles Americana Corner Nook Set
Oak Dining Sets – Home Styles Americana Nook Set – HMS709
These Home Styles Americana oak dining sets provide warmth, style and a whole lot of seating space in your kitchen or dining area.
Crafted of sturdy hardwood solids and veneers and finished in a multi-step process that results in a deep rich Cottage Oak stain this set will serve your family well for years.
It includes a table regular dining bench long bench short bench and corner bench. It's perfect for any corner space.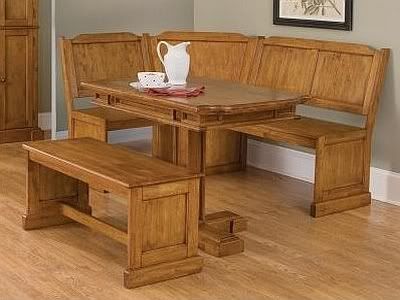 Long bench: 41.75W x 17.5D x 36.75H inches
Corner bench: 17.5W x 17.5D x 36.75H inches
Short bench: 25.75W x 17.5D x 36.75H inches
Regular bench: 40W x 15.75D x 17.75H inches
Table: 43W x 27D x 30H inches
Ready to assemble

.
.
Corner Breakfast Nooks
There are many corner breakfast nook sets available so it is only a matter of time before you find the perfect one for you and your home.  There are many features to consider when choosing between nook sets.  Some of those features include materials of construction, size, seating options, and shape.
There are really only two choices for the shape of a corner breakfast nook, square or rectangular, so it can fit into the corner.  Your choice between these two shapes depends on the space you have available.  Obviously, rectangular tables need a larger space than a square one.  Also, you should consider how many people and who will be sitting at your breakfast table.
If you have grown teenagers, then a square table might be best so they do not have to slide in and out to let each other get up.  With a square table they can each just take a side.  However, if you have several small children, a rectangular table will work well because they do not mind squeezing into a bench together.
In terms of size, there is a good rule that I heard once that I try to stick with.  You will need approximately three feet of space between the edge of the table and any wall.  This gives an adult enough room to pull out a chair and sit down comfortably.  So, whatever the measurements of your breakfast nook area are, your table should be approximately six feet smaller in each direction.
This rule can be adjusted slightly with a corner breakfast nook set because you do not pull out chairs on two of the sides.  When measuring for a corner set, you can include the dimensions of the benches and only take off three feet on both sides to determine how large a table you will be able to fit.
Seating options are also a bit limited with corner furniture sets because at least two of the sides of the table have the seating options already decided for you.  In order for the furniture to fit into a corner, you must have bench seating on the two sides that are against the walls.  The other two sides of the square or rectangular table are up to you.
Many corner sets just continue with the benches and have more communal seating.  Nevertheless, you might like the idea of having some chairs as well.  Guests will usually feel more comfortable in chairs and the mixture of seating options makes the furniture set more appealing.  Keep in mind that most bench seating will offer the homeowner a place for extra storage and everyone can use additional storage space.
The materials of construction for corner breakfast nook sets can be as varied as for any other type of breakfast nook furniture.  The same rules apply as usual for decorating.  You want to make sure to carry whatever decorating theme and mood is in the kitchen into the breakfast nook.
Wooden cabinets and a country theme mean that you should have a wooden table and benches.  However, if you home is decorated in a more modern style then a metal table with glass top and leather benches might be more appropriate.
Return from Oak Dining Sets to Breakfast Corner Nook Set homepage.
Check out the breakfast nook sets in the sidebar at the right hand side of the page, or choose from a wide range of
breakfast nook sets
for sale here >>>
Breakfast Nook Sets